Blog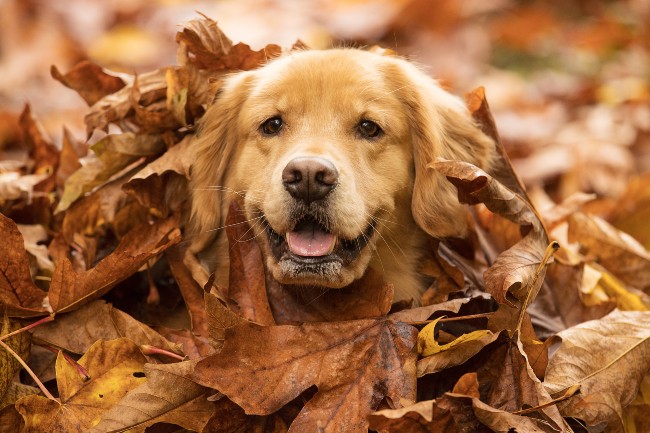 Who needs summer? How to make the most of fall with your dog
Diane Anderson
Blog
Hits: 224
For some dogs (and owners!) the cooler weather that accompanies the arrival of fall means long walks are a lot less of a chore. Football is on everyone's mind and we're recreating our favorite plays with our pets in the backyard. When we grab a pumpkin spice latte in the drive thru, we remember to pick up a puppuccino too. This time of year can be perfect for outdoor fun—it's not too cool and not too warm. So before the cold of winter blows in, make the most of your Michigan autumn with these fun ideas!
Hit the pumpkin patch. Not all orchards are dog-friendly, and that's okay—after all, if there's a petting zoo, can you really trust your dog to be on his best behavior? Do a Google search of your area to find an orchard that allows dogs, wrap your four-legged best friend up in a festive sweater, and hit the road to pick up the perfect pumpkin to spruce up your porch. Bonus points if the orchard has a corn maze the whole family can get lost in!
Have a fall-friendly photo shoot with your pet. This time of year, the colors are simply unreal, and that somehow makes us all a little more photogenic—including our pups! Whether you hire a professional photographer or use your own camera, capture these beautiful fall days and your picture-perfect pet in a seasonal-themed photo shoot—after all, you don't get many chances to dress him up in a plaid scarf! Don't forget to bring plenty of treats to ensure your subject sits still!
Sacrifice your leaf pile. Somehow, the more work a grownup puts into raking leaves, the more irresistible the resulting pile is to kids and energetic dogs. The internet is full of fantastic videos and images of dogs jumping in and bounding out of leaf piles, proof that dogs of all breeds and ages are drawn to the magic of this timeless activity. So go ahead and make a pile just for him to dive into, for his amusement and yours! Keep an eye on your pet if he's the type who eats everything in sight: some of the contents of the pile might give him an upset stomach or even make him sick.
While your Pet Stop hidden fence makes your yard a safe playground for your dog year-round, don't forget to take advantage of everything fall has to offer!