Blog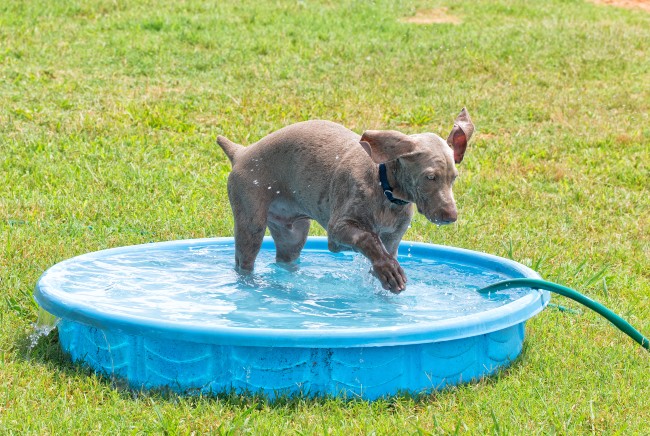 Dog days: Ideas for fun in the summer sun
Diane Anderson
Blog
Hits: 219
You've got your sunglasses on, sunscreen lathered on, and a sun hat on your head. Summer is in full swing and you're ready to soak it up. But don't forget your best friend when you're outside enjoying all the season has to offer! You've got a Pet Stop hidden pet fence around your yard and your dog is safe within its boundaries to run and play. Here are some tips for the best ways to enjoy the dog days of summer with the whole family!
Wonderful wading: Don't have an in-ground swimming pool where you and your dog can race laps? That's no problem! Your dog can still cool and get a bit of exercise off for relatively cheap and have a great time doing it! Head to your local super-store and pick up a plastic kiddie pool where your more active dog can splash around while you're filling it, or any dog can take a cool, relaxing soak. It's good to remember that traditional inflatable pools aren't the best choice for sharp clawed pups, so small plastic wading pool is your best, and most affordable, bet.
If you're looking for a little more style – and durability – you can pick up pools that were specifically designed for use with dogs and that are easy on the budget.
Splish splash: If you've got sprinklers in your yard, you're halfway to a fantastic – and tiring – activity for your four-legged friend. It's no secret that dogs love playing in the spray of a sprinkler or a hose. The good news is that you can make minutes of fun turn into hours with a splash pad. Even better news? The kids in your life will love playing with it too!
How about a pupsicle?: Cool, refreshing, frozen treats are a summer staple for us humans, from Sno-Cones to banana splits. But why should we have all the fun? If you have a Kong or a similar durable treat-holding toy, try filling it with peanut butter and sticking it in the freezer for a few hours. The result will not only be refreshing, it will keep your dog occupied!